written by Manos Technitis
Introduction
As part of the  study of the phenomenon of digital nomadism and so-called lifestyle mobilities, the Digital Nomads Observatory has come up with seven key parameters to be taken into account for assessing the suitability of a destination for attracting digital nomads, but also as a "compass" for adapting to future needs related to"  lifestyle mobilities".
This model remains in development, but in this article some key points are made and the philosophy of the model is explained.
Methodology
So far there are not enough quantitative surveys that are clearly directed towards the criteria for selecting a destination from digital nomads. For the creation of the model, have been taken into consideration data from surveys carried out so far, data from bibliographical research, as well as qualitative research carried out by websites and groups aimed at digital nomads.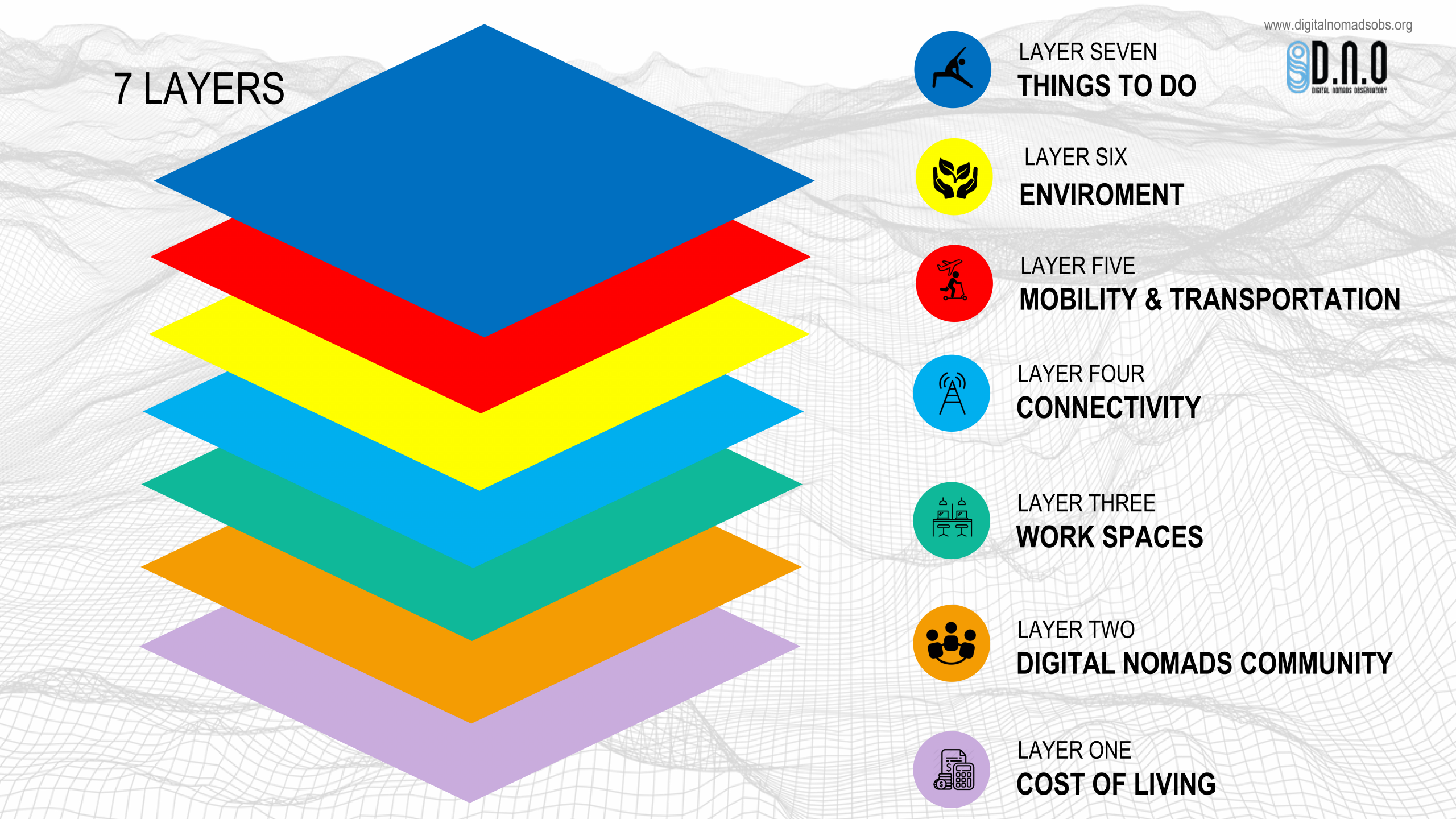 7 Layers
The model is divided into7 layers ("layers") in order of hierarchy in which a destination needs to evaluate and then work. The layers are as follows: cost of living, community of digital nomads, workplaces, interconnectivity, environment, activities and an eighth related to security & freedom. Bearing in mind that there are different categories of digital nomads (segments), the below mentioned assumptions apply in general terms and the reader should take into account that there can be significant variations when we are interested in a very specific category of digital nomads.
Cost of Living
As the cost of living we  define the amount of money required to cover basic after-tax expenses in a particular place and over a specific period of time,  such as:
Housing
food,
moving and interconnecting
Heating
Healthcare
The cost of living is often used to compare how expensive it is to live in one city compared to another. The ability to accumulated wealth and the quality of life (hours required to meet these needs, spending money on personal interests, etc.) depends on the amount of salary in relation to the cost of living in a particular city.
The greater the difference between salary and cost of living, the higher the quality of life is considered and therefore the better the living. For example, a high wage in a city with an extremely high cost of living (e.g. New York) may mean absolutely nothing. Banton, C. 26/03/2021. Cost of Living Definition. Investopedia. https://www.investopedia.com/terms/c/cost-of-living.asp
For digital nomads, the cost of living plays a very important role in choosing a city especially for the following reasons: (a) they can make greater savings, therefore work for fewer years until retirement see for example,  Running,  T. 20/02/2021.  The  ultimate  retirement  savings  guide  for  expats  &  nomads. NomadGate. … Continue reading, (b) to work fewer hours in order to be able either to make a more balanced life or to devote more time to other interests or occupations or even to their personal development (c) because it can offer them more security in case for a long time they are left without or with less income Stickel,  M. 2020.  Challenges and Opportunities of Digital Nomadism and its Implications for Tomorrow's Workforce, Master Thesis,  NOVA – School of Business and Economics. pg. 15, … Continue reading.
On the popular Nomadlist platform, cost of living is one of the most important variables for the popularity of a destination. At the same time, many of the up-and-coming digital nomad centers appear to be low-cost destinations Become Nomad. Cost of living Arbitrage for Digital Nomads and Remote Workers. https://becomenomad. … Continue reading.
In shaping the cost of living, the parity between the currency in which the digital currency is paid and the currency in which it pays plays an important role. Having a large exchange rate difference is obviously in the interest of the digital nomad since it relates to  the reduced cost of living of the destination, but there are also negative elements such as the various deductions in the exchange difference Bidloss,  J. How to get paid and manage taxes as a digital nomad.  Lonely Planet. https://www. lonelyplanet. com/articles/payment–and–taxes–as–a–digital–nomad. … Continue reading.
Community of Digital Nomads
Although digital nomads are called "nomads", they actually move on their own. However, at the destination of arrival, they are in great need of meeting and socializing with others like them and creating "nomadic communities".
The existence and meaning of the community is extremely important to digital nomads. Apart from the multiple benefits of socializing with a community (acquaintances, professional networking, exchanges of views, collaborations, etc.), the real need is another and much more important:
It is considered that the sense of teamwork   ("togetherness") caused by the community is for digital nomads the compensation for the absence of other permanent ties in the way of life they have chosen (such as family ties, property, connection to the homeland) and which evolutionarily all people are programmed to seek. Hannonen, O. 2020.  In search of a digital nomad: defining the phenomenon Information Technology & Tourism (2020) 22:335–353. There are various recordings about the loneliness felt by digital nomads which comes precisely from this way of life DigitalNomads:  InSearch of Freedom, Community, and Meaning Work in the New Ecomony. Oxford University Press,  pg  143,  Prabawa I W., Pertiwi, P. 2020. The Digital Nomad Tourist Motivation in … Continue reading. Of this importance, the existence or ability to form a community of digital nomads in a destination is placed so high on the priorities of the model.
Work Space
Workplaces here are workplaces which are either related toco-working spaces whose importance has been summarisedabove, or 'workspaces'in the broadest sense. That is, workplaces can be described as a room with a view, a public park, a seafront bench or a workbench in the forest.
As we have mentioned in a related article, digital nomads belong to the broader category of "lifestyle mobilities", a way of life and mobility that is related to balancing work andentertainment. Digital nomads are characterized by a general adaptability which is either a cause or a result of their lifestyle. In the same context there is alsoa deliberate adaptability to their way/workspace ("flexibilitization  of  the  workspace"). Theoretically at least, digital nomads can work with the same efficiency either in an office or in a cafeteria or by necessity or because they wish to work in alternative working environments Orel,  M. 2019.  Coworking environments and digital nomadism: Balancing work and leisure whilst on the move. World Leisure Journal. 61(3). DOI: 10.1080/16078055.2019.1639275.
Connectivity
The need for interconnection is not a result but a cause of the development of digital nomads, such as globalisation, the ease of movement of people and goods. Thus fast internet and wireless telecommunications are some of the reasons that contributed to the development of lifestyle-led mobilities and, by extension, digital nomadism, as a form of mobility as a way of life Hannonen O (2020). In search of a digital nomad: defining the phenomenon Information Technology & Tourism (2020) 22:335–353.
Without communications technologies, therefore, we could not be talking today about the digital nomad movement because it simply would not exist. Thus interconnectivity, which is nothing more than the possibility of easy and fast communication (basically data transfer), is a component of the lifestyle of digital nomads.  M. 2020.  Digital Nomadism: the nexus of remote working and travel mobility. Inf Technol Tourism  22, 329–334.
Therefore, among the criteria of a digital nomad to choose a destination or to use a location as a workspace, it is necessary to meet interconnectivity needs such as broadband  internet or satellite data  (4G, 5G)  see  indicatively The Remote Nomad Blog.   How to Make Sure You Always Have 'Good Internet' as a Digital Nomad. as recovered on 12/04/2021. … Continue reading
In relation to what connection speed is necessary for a destination to cover in relation to digital nomads, the answer is "it depends". Because not all users have the same needs. For example, the needs of a digital nomad working as a columnist are not the same as those needed by a graphic designer or video  editor   since the requirements in the latter case are much greater see cowork. https://www.sc-coworking.com/definition-hotspot-digital-nomads.htm, as recovered on12/04/2021. Of course, this does not mean that better speeds and coverage are not an additional advantage.
Of course, it is considered by many that the spread of 5G networks will also result in a greater spread of digital  nomads  Digital Nomads Lifestyle. 9/01/2020.  5G will create a world of Digital Nomads. https://www.digitalnomadslifestyle.com/5g-will-create-a-world-of-digital-nomads/).
Mobility & Transportation
Technology and, by extension, interconnectivity are interdependent to mobility, especially after the coronavirus era Herman, I.,  Paris,  C.  M. 2020, etc.. After all, as another article of ours has mentioned, mobility as a concept is a component of the concept of digital   nomadism. At the same time, it is precisely because digital nomads usually do not have movable and immovable property that they are very likely not to have their own means of transport. Thus, and in line with the new trends for urban mobility, a large proportion of the public does not need a means of transport but from the possibility of travel as a service.
This can be translated to ease of mobility within the destination borders such as public transportations, car rental, bike or scooter rental, as long as the use of services called "mobility as a service" for the term mobility as a service see Wikipedia.  Mobility as a service. https://en. wikipedia. org/wiki/Mobility_as_a_service όπως ανακτήθηκε στις 12/04/2021, Deloitte.  2017. … Continue reading.
In addition to the above amenities of a destination, the distance or ease of travel to nearby major cities or ease of travel to and from the airport and vice versa the ease of travel to that destination Prabawa I W., Pertiwi, P. 2020,  etc.is also important.